A story is told of an offender who had a date with the hangman for criticizing the power that was in a far away land. On the D-day however, the noose broke and his almost asphyxiated body hit the ground in spasms like a fish out of water. It was considered some sort of divine intervention and traditions required that such persons be pardoned.
News reached the ruler and he signed the decree that the fella be let go, however before he released the guard to deliver the decree, the ruler asked to be told what the culprit said when he discovered he had survived the execution attempt.
"This land good for nothing. They can't even produce proper twine" reported the guard to his master.
At the sound of the spite, the dictator took back the decree and ordered that the convict be hanged afresh.
This time the noose did not break.
I was that prisoner this week at the #KECOSO games. I signed up for Scrabble knowing too well who and therefore what to expect. You see, some names in Scrabble can and should dry my bones as a debutante but hey, he who is down fears no fall, right? All was well until the fixtures board read #KCAA vs. #KPA. That was yesterday.
KPA has #Amuke and #Willy_Mwangi. I have never faced off with any of them but I won't lie, I know who they are and what they can do to the small Scrabble I pretend to know.
So again I reminded myself that he who is down fears no fall as I shifted uneasily on my chair waiting for #TD to start us off. I beat Amuke first round 😊 I took on Willy and of course he flips me like over like Maui would Moana and Amuke beats My team mate #Jack_Makaa like a brat inside a mosque. Then I condensed my butt a good one and jabbed at Willy's solar plexus in round 2.
Eh! I couldn't keep calm! I took shots of that board and flaunted it everywhere to everyone like I had won olympics. I grew horns instantly. I even told Amuke yeye ni size yangu, He's my mate in Scrabble hence forth. We shared good hearted laughter over and over. It felt good.
But there was a small problem, well, not very small because the problem was me (KCAA) playing #The_Gigaton Gitonga Nderitu and #Oyez, Allan Ombaso Oyende (KBC) in the semis today.
The anthem 'he who is down fears no fall' couldn't save me from the kind of trouble I was in. In fact I was down and even though I wasn't falling, things were falling on me badly. I was aware I had signed my death cert the moment these names popped up but I wasn't ready for the kind of death #Gigaton almost put me through.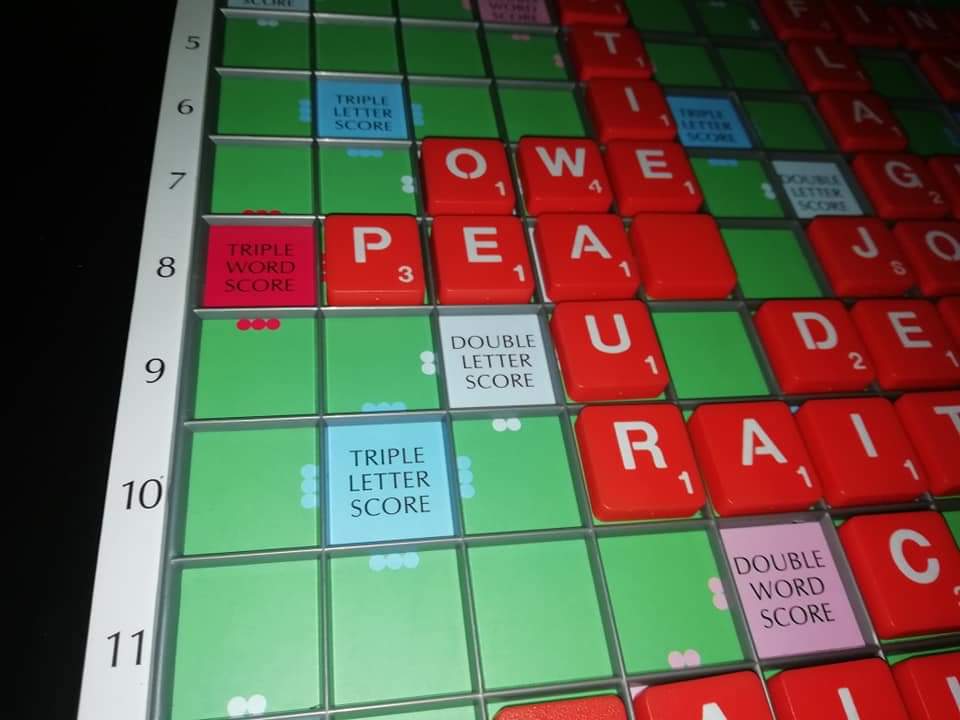 I will try and explain how I survived the guillotine by grace.
I had playes WITTIER hooking the R to EA on the board. Now we had EAR on the third fourth and 5th grid from the middle triple spot on the left. See that? Scores tighter than jeggings. We played on.
Now, my troubles begin when he plays P to the EAR (PEAR) and picks last tile in the bag. BRNGQRC are sitting pretty on my rack instead of his. From tracking, he has TISANES and a hanging red spot.
Jesus! That SPEAR was coming straight for my racing heart!
I saw the news flash on the national broadcaster before my two eyes.
'Gigaton beheads newb, ends career'
I wasn't prepared to die like this. Not after I had found a mate in Amuke and Willy. Not after surviving mamluki elimination and traveling on a donkey to get here and certainly not on the official national TV.
I was in some sort of a trance between minute 11 and 4 going through my will and considering the short Scrabble life I had lived. A small crowd had now gathered around the table proly to bury me and carry out the burial rites.
That's when, like the offender from the story, my noose went BRRR! across the triple word path and just like that with one move, spoilt the SPEAR bingo on a triple line. SEITANS!
The sigh from the onlookers was enough to put off the sun. I was raining sweat.
Goes without say that UBIETIES took a D from #Oyez and I took nothing.
I live to fight another day… Someone take me to GOA. Anyone?